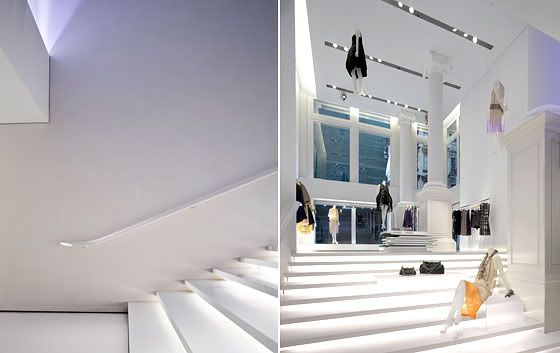 Inside Vera Wang's New store.
Vera Wang has a select number of boutiques that are located in New York, Boston, Beverly Hills, Waikiki, and Shanghai. Now Vera Wang's Madison Avenue flagship store just got a baby sister — the designer opened a second shop in Soho last week. Plans of the store were first announced two years ago. The 2,500-square-foot space is bright, clean, and happy. The store houses the ready-to-wear and Lavender labels, fragrances, and accessories on two levels of floor space mapped out to resemble a white light box. Designed by Gabellini Sheppard Associates, LLC, the store serves as a bright beam in the Soho shopping district, literally, as you can see the bountiful bulbs from outside. Plus, the pure feeling serves as a nice deterrent from the darker economic times. Perhaps it might even serve as an indicator for a bright retail future.
Vera Wang, 158 Mercer St., nr. Prince St. (212-382-2184); Mon.–Sat. (11–7), Sun. (12–6).